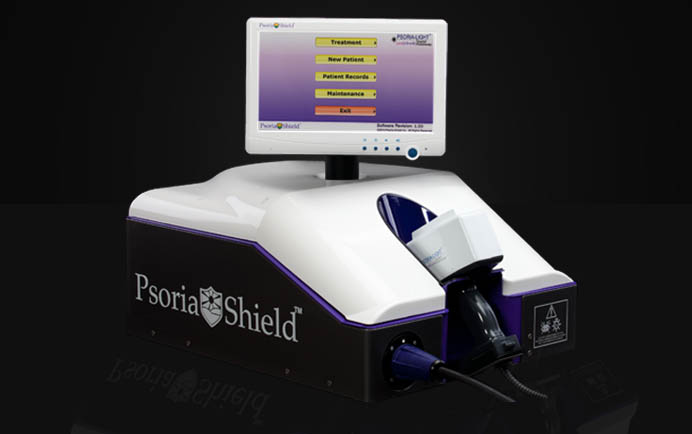 Psoria-Light®delivers high dosages of Ultra-Violet (UV) light to affected skin using deep UV LEDs as opposed to excimer laser or mercury gas lamp light sources. Psoria-Light incorporates several patent-pending features, such as advanced safety features and an innovative digital camera.  These integrated features make it easier to track patient sessions, graph treatment metrics, and record and store digital, improving the flow of treatment for healthcare providers.  A wide-screen color display with touchscreen control assists patient and healthcare provider visualization of treatment and patient records. All data, including images, is stored in permanent memory and can be exported to USB memory in PDF format for printing and storing on clinic computers.
Psoria-Light is capable of emitting either UVA or NB-UVB light allowing healthcare providers access to various forms of phototherapy treatment, all within one device. Because Psoria-Light emits very intense levels of UV light, it can only be sold to qualified healthcare providers and is not for home use.
UV phototherapy is reimbursed or covered by most medical insurers including Medicare. It is considered less toxic than systemic or biologic drugs.
Psoria-Shield®advocates the use of targeted UV phototherapy to address those aspects of patients' disease which reduce their Quality of Life (QoL) the most, first. By addressing the major detractors from patients' quality of life initially, patients and healthcare providers can address the remaining regions of skin with less aggressive, less toxic therapy. Psoria-Light represents a device that is built on an established clinical modality, utilizes the most advanced LED technology available today, and incorporates innovative features born from a collaboration of opinion-leading medical doctors, biomedical engineers, and scientists.